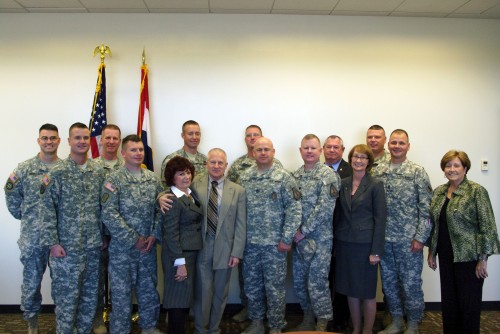 Dignitaries from Lindenwood University, the Missouri National Guard, and the City of St. Charles gathered today at the school to showcase the launch of two online degree programs, a Bachelor of Arts in general studies and a Master of Arts in leadership. The programs are designed to meet the needs of military personnel, who often benefit from the flexibility of online courses.
The online bachelor's degree in general studies and master's degree in leadership were chosen in response to feedback provided by members of the Missouri National Guard, who requested them specifically. Both will be available in January 2013.
Attendees of the ceremony also had the opportunity to hear from members of the University's new Student Veterans Organization and to take a sneak peak at the school's Veterans Affairs Center, which will officially open in November. It will be a fully staffed center where military students can hold meetings, complete coursework, gain information about their academic status, and more.
"It will be more than just a room, but a one-stop shop where veterans and service members can get the answers they need in the manner they deserve," said Jann Weitzel, PhD, Vice President for Academic Affairs and Provost. "In addition to our new online offerings, it will be another way in which we honor our commitment to military personnel and thank them for choosing Lindenwood University as their partner in education."