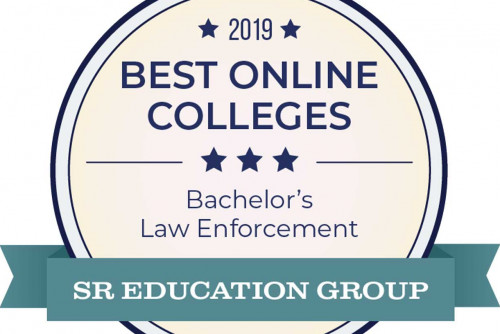 Lindenwood University's law enforcement bachelor's degree has been featured in the 2019 national online college rankings for quality and affordability by the SR Education Group.
Lindenwood ranked sixth out of 152 online law enforcement programs in the group's 2019 GuidetoOnlineSchools.com. SR Education Group also released its Most Affordable rankings on OnlineU.org, in which Lindenwood's online law enforcement bachelor's ranked 18th.
The list of Best Online Colleges for Law Enforcement Degrees is made up of "colleges that are particularly strong options for aspiring law enforcement professionals, based on tuition costs and alumni salaries reported by PayScale," according to GuidetoOnlineSchools.com. Read more about this ranking.
The 2019 Most Affordable Online Law Enforcement Degrees list is made up of just 23 schools that represent the most affordable options for bachelor's degrees in law enforcement. Continue reading about this ranking.
"I am very proud of our online program and believe it is one of the finest programs in the country," said Darren Marhanka, professor and coordinator of the Criminology and Criminal Justice Online Program. "The Lindenwood University online criminology & criminal justice degree will prepare students for careers in one of the most self-challenging and self-rewarding professions: the criminal justice system. Our online program utilizes passionate faculty with significant real-world experience in the field, which is reflected in course content. Students encounter assignments relative to the 'real world' and graduate ready to tackle the toughest challenges."
The SR Education Group has been publishing rankings of online colleges since 2009, based on "thorough research and fair assessment of all available online programs."