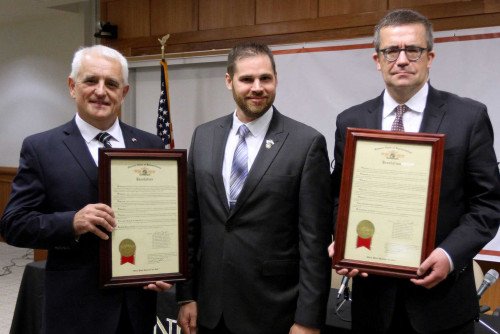 Piotr Wilczek, Polish ambassador to the U.S., was recently on Lindenwood University's St. Charles campus to take part in a discussion of trade and investment opportunities between Poland and the State of Missouri. The event, which also included area businesses leaders and legislators, was co-hosted by the university's Hammond Institute for Free Enterprise and the Missouri Chamber of Commerce.
Wilczek was introduced by Dr. Wojciech Golik, Lindenwood professor of mathematics and recently named honorary consul of the Republic of Poland in St. Louis. The 2 ½-hour event was held in the university's Dunseth Auditorium in Harmon Hall.
According to Golik, Poland was recently classified by the FTSE Russell index provider as a developed market with a Gross National Income (PPP) of over one trillion dollars. "Polish investment in the U.S. was $2 billion in 2015, and continues its upward trend," he said.
---
Photo Cutline: Ambassador Piotr Wilczek (right), of Poland, with Dr. Wojciech Golik (left), of Lindenwood University, and Missouri State Rep. Kurt Bahr at a recent investment and trade event at the university.