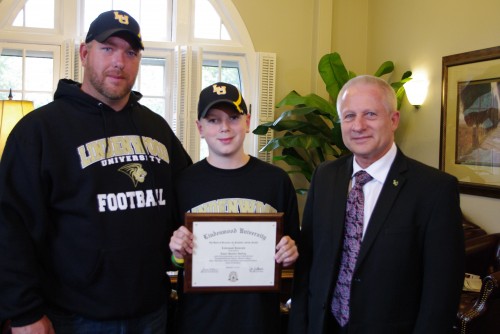 Lindenwood President James D. Evans, Ph.D., on Friday formally presented a full Lindenwood scholarship to Bobby Zwilling, 12, whose mother, stepfather, and two siblings died from injuries sustained in a fire in their St. Charles home on Aug. 16, 2011. Bobby was the only survivor of the fire.
He attended the presentation with his father, Bob Mauer, and both of them expressed thanks to Dr. Evans and the university for extending the scholarship offer. Bobby, who plays football, was wearing a new Lindenwood Football t-shirt and hat for the presentation. He said he appreciated the offer and thought the campus, which he visited for the first time that day, was big and "pretty cool."
Evans said the scholarship offer was the idea of Lindenwood Counsel Eric Stuhler, who came to Dr. Evans during the news coverage of the fire and its aftermath and suggested the university could give Bobby Zwilling and his father one less thing to worry about with the scholarship offer.
Mauer said he was touched and very grateful for the offer and for the outpouring of support he and his son had received from the entire community.