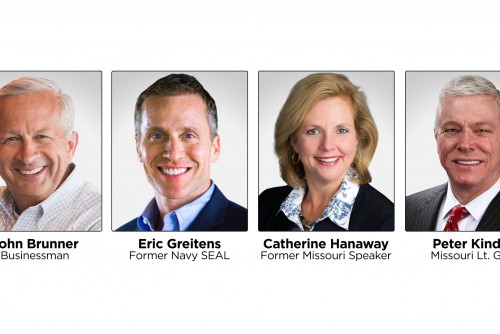 Lindenwood University's J. Scheidegger Center for the Arts will host a debate among the four Republican candidates for Missouri governor. The one-hour debate, at 7 p.m. on July 13, is sponsored by and will be broadcast live by KMOV-TV in St. Louis and eight other news outlets around the state.
The partner stations include KCTV in Kansas City, KOAM in Joplin, KFVS in Cape Girardeau, KYCW in Springfield, KMIZ in Columbia, KNPN in St. Joseph, and WGEM in Hannibal. The debate will also be streamed live by the Kansas City Star.
The candidates—John Brunner, Eric Greitens, Catherine Hanaway, and Peter Kinder—will answer questions from a panel of moderators, who will also ask questions received directly from Missouri voters. The moderators for the debate are KMOV anchor Steve Savard, KCTV anchor Brad Stephens, and Kansas City Star reporter Dave Helling. Savard will also serve as host of the one-hour broadcast.
A small number of general admission tickets is available for free in the Lindenwood University Box Office. Anyone interested in tickets may pick them up in person at the box office between 9 a.m. and 5 p.m., Monday through Friday. They are not available online or by phone, and there is a limit of four tickets per person. The box office is located in the Scheidegger Center, at 2300 West Clay St. in St. Charles.