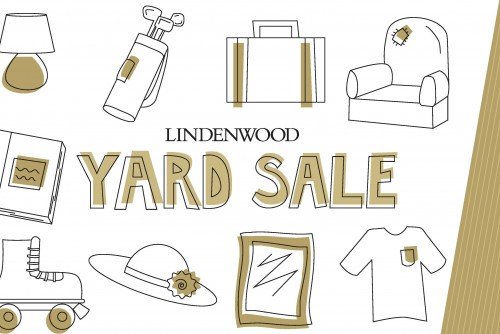 The Lindenwood Residential Life Office will host its inaugural yard sale and donation drive on Saturday, April 28, from 9 a.m. to 3 p.m. in the Welcome Center parking lot.
Students, faculty, and staff are invited to sell their surplus belongings to the surrounding community and their peers. In addition, we will be accepting donations in support of local charity We Love St. Charles. This event is open to the public!
We Love St. Charles has requested donations of the following items:
Toilet Paper
Disinfectant Spray
Laundry Detergent
Information for sellers
Campus residents can sign up by emailing their area coordinator
Faculty, staff, and off-campus students can sign up at the Residential Life Office on the third floor of Evans Commons.
The $10 sign-up fee includes one parking space with a table and a chair to sell your items. All proceeds will benefit We Love St. Charles.
A limited amount of extra tables are available for $5 each.
The sign-up fee must be paid to the Residential Life Office within three days of signing up in order to reserve a spot.
Look for our table outside of the dining halls in the two weeks leading up to the event. You may also sign up and pay at these tables.
Items must be appropriate and in good condition.
Sellers can begin setting up their tables at 8 a.m. on April 28.
Contact John Vanderpool at jvanderpool@lindenwood.edu with questions.