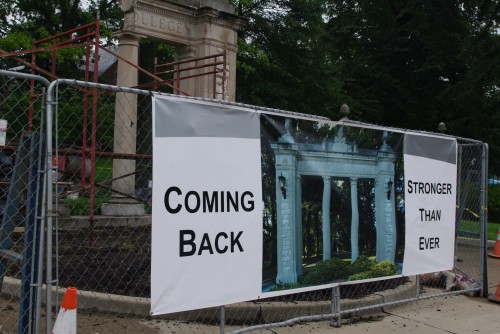 As promised by a sign at the project site, the historic Alumnae Gate, damaged by a semi-truck in late June, will be fully restored and stronger than ever. Work by Felling Contracting began at the start of July, and owner Dave Felling says he expects it to be completed by Aug. 1.
Felling has over 30 years' experience in historical architecture salvage. His company specializes in restoring artifacts for institutions.
"I've seen the photos of people, 19 years old, standing up on this gate," Felling said. "This is an emotional piece of history and a wonderful stone entrance. Restoring this gate is a labor of love."
The restoration will occur in three phases: cleaning and cataloguing, putting each piece back where it belongs, and the final intricate restoration and re-mortaring of the gate's joints.
"There is a science to dismantling stuff," Felling said. "There is no demolition going on here. This is a systematic restoration."
Lindenwood constructed the Alumnae Gate in 1921 using donations from the institution's alumnae. Part of the structure was felled when a driver backed into it with a tractor trailer truck June 24.