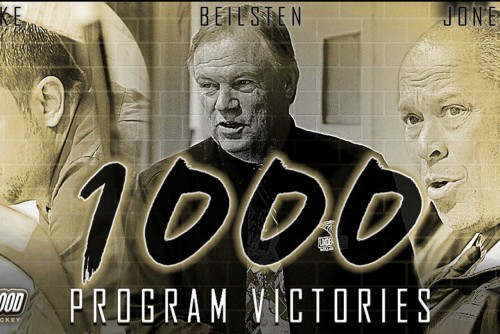 Roller hockey reached several milestones January 26-27 during Great Plains Collegiate Inline Hockey League (GPCIHL) action at Midwest Sport Hockey in Ballwin, Mo., and Matteson Square Garden in St. Peters, Mo. The first major accomplishment was win number 1,000 in program history encompassing all three squads: the Division I Lions, and the D3 Gold and Black teams.
After a win from the D3 Gold squad over the D3 Black squad early Friday night, the Division I team defeated conference nemesis Bethel University (Tenn.) 4-2 to achieve the 1,000th victory. After the remainder of the conference schedule over the weekend, the overall program record stood at 1,005-153-21.
The next milestone was victory number 200 for D3 Gold Head Coach Jon Hilke, which came in the next game for the Lions, a 5-2 win over the Bethel D3 squad. With another victory on Saturday, Hilke has now compiled a lifetime Lindenwood record of 201-37-5 since taking over the reins of the team in 2009. The Gold team has another milestone in its sights. Win number 350 is just four victories away.
Major accomplishments continued on Saturday when Lindenwood stopped the University of Missouri 9-2 for win number 500 for the D1 squad. The Lions added a 3-2 victory over Bethel later in the day and now sit at 501-41-5 overall. In his 15th season, Head Coach Ron Beilsten has been at the helm for most of those games. His Lindenwood record now sits at 428-18-5. He will have several chances to add to that mark before the current season ends. The GPCIHL Regional Championship is February 23-25 at Midwest Sport Hockey, and the National Collegiate Roller Hockey Association National Championships take place April 11-14 in Fargo, N.D.