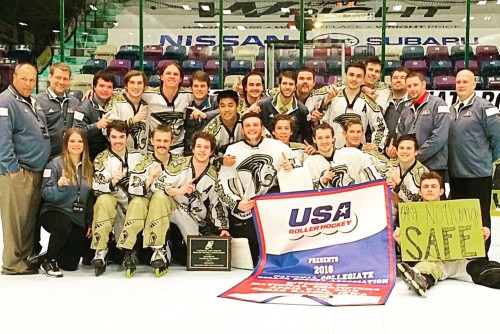 With a 4-3 win over the Michigan State D3 team, Lindenwood University's men's roller hockey gold squad captured its sixth straight title Sunday afternoon at the National Collegiate Roller Hockey Association Division III National Championships at the Cedar Rapids Ice Arena in Cedar Rapids, Iowa.
Lindenwood wasn't able to generate much offense in the opening minutes of the game, but Chris Visico put the Lions on the board with help from Chad Wolterman at the 7:10 mark. Some undisciplined play resulted in two power plays for Michigan State in the last half of the period. The Lions scored in the first power play but did not score in the second one. Michigan State had some momentum on offense, having outshot Lindenwood 14-4 in the first period.
The Lions' Spencer Marquiss, assisted by Thompson Teague, scored during another power play in the second period, giving Lindenwood a 2-1 lead. Five minutes later, Michigan State intercepted the puck and scored at the 8:53 mark, and the game was tied at two. It looked like it would stay that way through the end of the period, but Marquiss scored with 30 second left in the period, assisted by Jeff Arscott and Jonathon Gauthier. The Lions took a 3-2 advantage into the final period.
Both teams scored in the first 24 minutes, but the Lions scored again at 2:47 of the third when Visico set up Wolterman. Down 4-2 with the time running down, the Spartans pulled their goalie for the extra attacker in the final minutes and scored a goal at 10:33. After the ensuing faceoff and the puck in the Lions' zone, the Spartans pulled their goalie once again. The final minute was a mad scramble, with multiple opportunities, but Chad Robinson, the Lindenwood goalie and eventual first star of the game saved numerous shots, including a final one in the last second, and the Lions celebrated.
Michigan State outshot Lindenwood 35-25, but Robinson stopped 32 of the 35 shots he faced. The Lions scored on one of two power plays while holding the Spartans to one goal on five power plays. Marquiss was name the second star with two goals, and Wolterman was given third star honors with a goal and an assist.
Lindenwood finished its championship season with an overall record of 25-5-0 and a 6-3-0 record in the Great Plains Collegiate Inline Hockey D3 League.