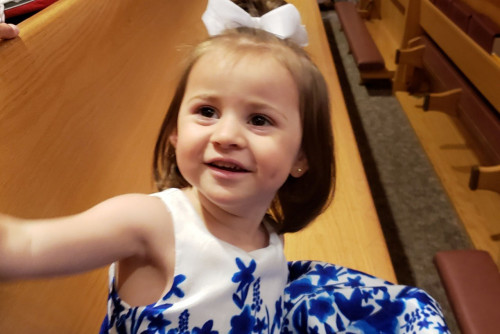 Lindenwood University believes that Lions should support Lions, and one of our own has suffered a tremendous loss.
Lindenwood alumna Lucia "Lucy" Karam (nee Zeik) tragically lost her 2-year-old daughter, when she was struck and killed by a vehicle on Sept. 16.
In the spring of 2019, Lindenwood University will award a $2,000 scholarship in memory of Felicity "Fee-Fee" Karam to a student in need that is also enrolled in our Plaster School of Business and plays lacrosse. Felicity's mother, Lucia Karam, is a 2007 graduate of Lindenwood University's School of Business and former lacrosse player.
Lucia also served the Lindenwood Lion Pride as an admissions counselor and financial aid advisor for nearly six years.
The family is asking that donations be made to Food for the Poor in lieu of flowers. A GoFundMe has also been launched to support the Karam Family.
A memorial was held on Friday, Sept. 21, at St. Patrick's Catholic Church in Wentzville. Funeral services were held on Saturday, Sept. 22, also at St. Patrick's.