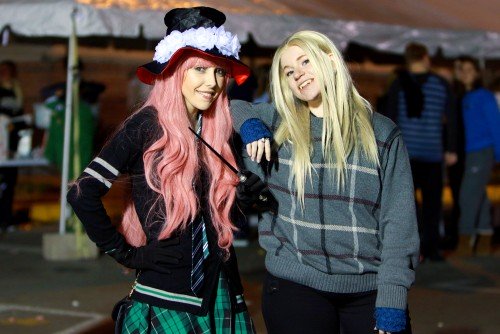 Lindenwood University's seventh annual Dark Carnival on Oct. 25, a free event for all ages featuring 89 sponsored booths, was the largest in the event's history with more than 12,000 visitors.
"It was like opening a floodgate," said Bryan Stone, associate officer of development at Lindenwood. "It kept running and running with people, and it didn't stop."
Various local businesses and organizations, including A&G Auto Spa, Supplement Superstore, the St. Charles police and fire departments, and Lindenwood student groups sponsored booths featuring games and giveaways.
In addition to the games at the booths and the haunted house, Dark Carnival featured entertainment from Circus Kaput and live music from The 8 South Band.
"From when we opened at 7 p.m. to when we closed at 11, people told me how good the band was," said Stone. "I caught the circus act and laughed the entire time."
Stone said he was thankful for the event's sponsors: radio stations 105.7 The Point and Now 96.3, Ameren, Wes Kuhn State Farm, Sunbelt Rentals, and Whitetop. Sunbelt provided the electric equipment, and Whitetop supplied the tents for the booths.
Stone says planning is already underway for Dark Carnival 2018.