Lindenwood University's 2013-14 Speaker Series will continue with branding and marketing expert, author, Shark Tank investor, and FUBU Clothing CEO Daymond John at 7 p.m. on Thursday, Nov. 14, at Lindenwood's Bezemes Family Theatre. Tickets are required and available for free at the J. Scheidegger Center Box office.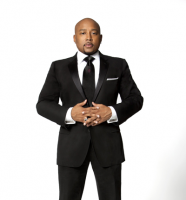 The Bezemes Family Theatre and the J. Scheidegger Center Box office are located in Lindenwood's J. Scheidegger Center for the Arts, at 2300 West Clay St. in St. Charles, just west of First Capitol Drive.
John will speak on "Fundamental Keys for Business and Personal Success." His talk is part of the School of Business and Entrepreneurship's inaugural Entrepreneurship Week. In addition to John's talk, the event will feature a Local Entrepreneur Pitch contest, in which two students and two entrepreneurs from the community will present their ideas and have a chance to win a $500 cash prize.
An award-winning entrepreneur, John founded the iconic and widely successful urban apparel fashion brand FUBU ("For Us By Us") in 1992. In 2009, he joined the cast of the ABC entrepreneurial business show Shark Tank, produced by acclaimed TV producer Mark Burnett. In the show, he demonstrates his marketing expertise and entrepreneurial insights, which have earned him the nickname "The Shark."
John is also founder of the marketing consulting firm Shark Branding. He has published the books Display of Power: How FUBU Changed a World of Fashion, Branding, And Lifestyle, and The Brand Within: How We Brand Ourselves, From Birth to the Boardroom, and has received more than 35 awards, including Brandweek Marketer of the Year and Ernst & Young's New York Entrepreneur of the Year Award.
For more information about the 2013-14 Lindenwood University Speaker Series, visit www.lindenwood.edu/academics/speakerseries.