Lindenwood University-Belleville senior Samantha Rebentisch has never been afraid to chase her dreams.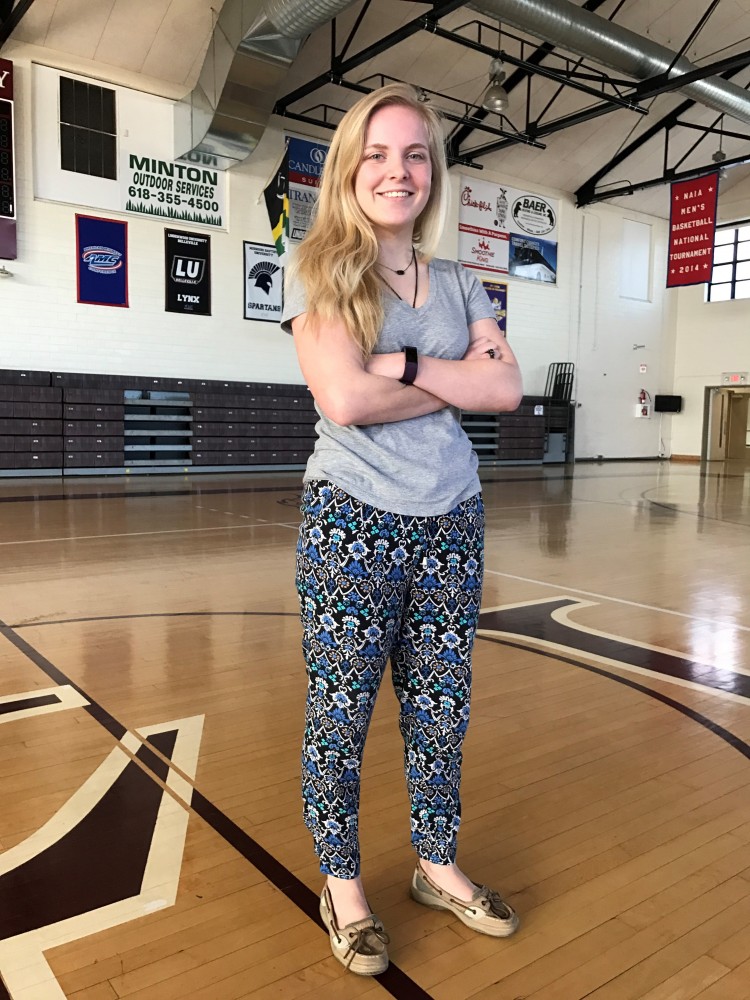 A fan of Olympic-style wrestling for as long as she can remember, the senior in sports management from Connecticut tried out for–and made–the boys wrestling team at her high school because it did not have a girls team.
That type of persistence, coupled with opportunities Rebentisch has had while getting her education at Lindenwood Belleville, have combined to make her lifetime ambition of landing a job in the world of wrestling a reality.
"There is no women's professional wrestling league, but I love the sport and I want to stay involved in it any way I can," Rebentisch said. "So, promoting it and, hopefully, coaching it are my dreams. I'd love to be able to make that my career."
With her goals already set, Rebentisch didn't hesitate when her business professor and advisor at Lindenwood Belleville, Dr. Ted Burden, called her into his office to tell her that he got a request for volunteers willing to help at the NCAA Wrestling Championships in March in St. Louis.
"She loves wrestling so much that she snapped it right up when given the chance to work with the wrestlers," Burden said. "I don't know if she would have had the same reaction to anything else. But she just lives and breathes wrestling."
Rebentisch said Burden knows her extremely well and she's glad he thought of her when the request for help at the championship tournament was extended.
"When I got the opportunity, I jumped on it," said Rebentish of the chance to make connections with people in wrestling at the NCAA tournament. "I'm already making plans to do it again next year."
At the tournament, Rebentisch coordinated athletes and coaches to get them to the correct mat for their matches. She also did some promotional work outside the Scottrade Center where the championships were held. It was there she caught the eye of a St. Louis-area wrestling promoter who asked the Lindenwood senior if she would be interested in a job marketing the sport.
Burden said he's proud of the way Rebentisch made the most of her opportunity.
"In the Division of Business & Entrepreneurship, practicums and internships are vital to our students," said Burden. "Those experiences bring real-life situations and circumstance that often cannot be replicated in the classroom.
"In addition to their academic learning, outside business associations give our students opportunities to sharpen their academic skills, as well as learning those skills that are so important to employers in the business environment, yet not ideally situated for classroom instruction. In a society that has become more and more isolated and impersonal, proper etiquette and protocol for the particular product and/or service is essential to so many areas in business: sales, public relations, and marketing, to name a few."
After three seasons, Rebentisch moved on from being an active wrestler at the beginning of her senior year to concentrate on her studies and her career after school.
"I've done more in wrestling than I could have ever imagined," Rebentisch said. "It would be incredible to be able to give something back to the sport and the next generation of young women interested in it. It's exciting; it looks like I'll get that chance."