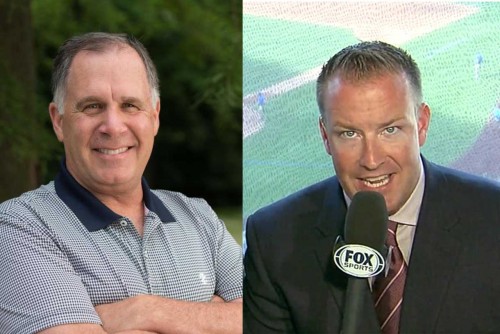 Sportscasters John Kelly, of the St. Louis Blues, and Dan McLaughlin, of the St. Louis Cardinals, will speak at 4 p.m. on Feb. 21 at Lindenwood University's Anheuser-Busch Leadership Room in the Spellmann Campus Center. The event benefits Lindenwood's chapter of the National Broadcasting Society—Alpha Epsilon Rho, which is presenting the event with the university's School of Arts, Media, and Communication.
The event, "A Conversation with John Kelly and Dan McLaughlin," is free and open to the public, and tickets are not necessary. The Spellmann Center is located on Lindenwood University's St. Charles Campus at 209 South Kingshighway, St. Charles, MO 63301.
Student representatives from the National Broadcasting-Society-Alpha Epsilon Rho will be raising funds at the event to help send Lindenwood University students to the 2017 NBS-AERho Convention in New York March 21-26. Attendees can bring items they would like autographed for a small donation, and a 50/50 raffle will be held with proceeds benefiting the trip to the convention.
Kelly is the play-by-play sportscaster for the St. Louis Blues and the son of the late Dan Kelly, who spent 21 years as the "voice of the Blues." This year will mark Kelly's 10th season with the St. Louis Blues. John Kelly's son, Patrick Kelly, is currently a student at Lindenwood University pursuing a degree in mass communications with an emphasis in broadcasting. Patrick, a play-by-play sportscaster for Lindenwood's men's and women's hockey teams, can be heard on the campus radio station, KCLC-FM 89.1, The Wood.
McLaughlin is in his 20th year as the play-by-play sportscaster for the St. Louis Cardinals and is a graduate of Lindenwood University's class of 1996. McLaughlin called his first major league game at the age of 23, and his work last season earned him an Emmy Award for outstanding play-by-play. His baseball assignments have included the national telecasts of FOX Saturday Baseball and ESPN's post-season coverage of college baseball. McLaughlin has filled in on numerous Cardinal radio broadcasts working alongside Mike Shannon and the late Hall of Fame announcer Jack Buck, and he continues to produce daily radio and television features for the Cardinals Network and cardinals.com. While at Lindenwood, McLaughlin was a member of the Lions baseball team as well as a broadcaster for KCLC.
Photo Credits: John Kelly [Riverbender.com], Dan McLaughlin [Fox Sports Midwest]