Registration is now open for the Lindenwood University Campus YMCA's fourth annual Spring into Service day. The event, geared toward making an impact in the community, will take place from 8 a.m. to 2 p.m. on Saturday, April 12.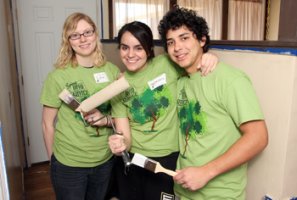 Volunteers will join together to complete service projects at several different agencies, including O.A.S.I.S. Food Pantry and Thrift Store, Emmaus Homes, the St. Louis Crisis Nursery, Blackhurst Elementary School, the St. Charles Parks and Recreation Department, Five Acres Animal Shelter, and the Boys and Girls Club of St. Charles County. Planned projects include landscaping, painting, making care packages, sorting and distributing food pantry items, and more.
Breakfast, transportation, lunch, and a free t-shirt will be provided. Volunteers are also invited to attend a barbecue at the Campus YMCA following completion of the day's projects.
For more information, contact the Campus YMCA at (636) 949-4787 or email lu.campusy@gmail.com. To register, visit springintoservice14.eventbrite.com.