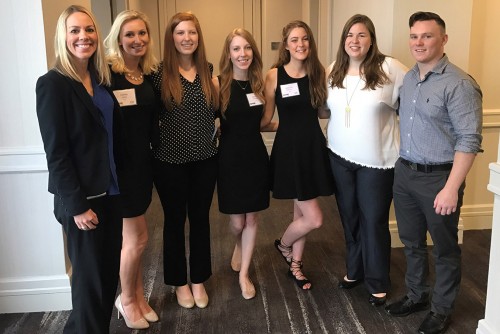 A team of advertising students from Lindenwood University recently returned from the American Advertising Federation's National Student Advertising Competition District 9 event with two significant honors.
The team's advertising campaign received a Special Judges Citation Award for Most Emotional Connection. Also, Dr. Kristy Tucciarone the Advisor of the Year Award for District 9, which includes Missouri, Iowa, Nebraska, and Kansas.
The competition took place over two semesters, starting in fall 2016, as student teams assembled a 27-page plan book around this year's client, Tai Pai frozen Asian foods. The teams are provided a problem with a dollar amount to resolve it. The students are responsible for primary and secondary research and developing a "big idea," creative execution, buying media, impressions and staying on budget.
At the event, each team made a 20-minute presentation to four seasoned advertising professionals who currently work in the industry. The Lindenwood team included Jessica Hodge, Shelly Hoerner, Elsa Mort, Wilder Politte, Sierra Teson, and Maggie Winchell.
"The students were thrilled to receive a Special Judges Citation Award for the campaign they executed for Tai Pei—'Fortune Follows You,'" Tucciarone said. "This citation means so much to the students, because it is up to the discretion of the judges if a campaign is worthy of special recognition."
Tucciarone said competing in the American Advertising Federation National Student Advertising Competition adds value to the advertising and public relations program, because the students are working on a real client with a real problem.
"This competition is not fiction," Tucciarone said. "It is well known in the ad industry that students who compete in this competition go above and beyond. This competition mimics work produced in industry."
Photo: Taking part in the AAF National Student Advertising Competition were (from left) Advisor Kristy Tucciarone, Sierra Teson, Jessica Hodge, Shelly Hoerner, Maggie Winchell, Elsa Mort, and Wilder Politte.