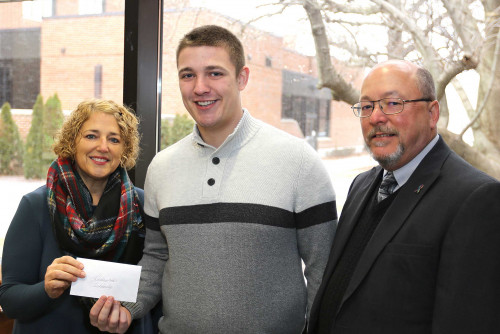 Lindenwood University-Belleville freshman Austin Bearden was recently awarded the Lynx Learning and Community Contribution Scholarship in the sum of $1,000 sponsored by Community Kindness Inc.
To be considered for the scholarship, students were asked to draft an essay reflecting on what it means to be a lifelong learner, a civically oriented member of society, and an advocate for their community and country. The prompt also asked how students would continue to serve others in the future or incorporate service into their life. To be eligible for the scholarship, students must be enrolled in the Freshman Experience class for the semester in which they are submitting their essays. Essays submitted were then judged by a scholarship committee based on the essays' content, originality, style, and grammar.
Bearden is almost done with his first year of college and finds that giving back to the community is one of his greatest passions. He attributes his drive to help others to those who have lived in his community, found success, and given back to his hometown, Herculaneum, Mo. Bearden has taken on the role of president in the Rotaract Club and Student Government Association on the Belleville campus. As a member of the baseball team, a full-time student, the oldest child of 10, and the president of two student organizations, Bearden still believes it is important to always find the time to help the community and to set an example for others to follow.
"Everyone has at least one or two hours that can be set aside to help others, even if they don't want to admit it," said Bearden, who hopes to inspire others on campus to follow suit, be leaders, and to find time to help others either independently or through the Rotaract Club.
The scholarship's sponsor, the Community Kindness Re-Sale Shoppe, is a local charity serving the Belleville and St. Clair County area. Residents and businesses donate items in good condition for residents to purchase at low costs. Staffed with volunteers and using its proceeds to support local charities, the Community Kindness Re-sale Shoppe has been able to provide various benefits for residents.
Caption: Lynx Learning and Community Contribution Scholarship recipient Austin Bearden receives his award from Director Geri Boyer (left) and Vice-President Darrell Coons of the Community Kindness Re-sale Shoppe.