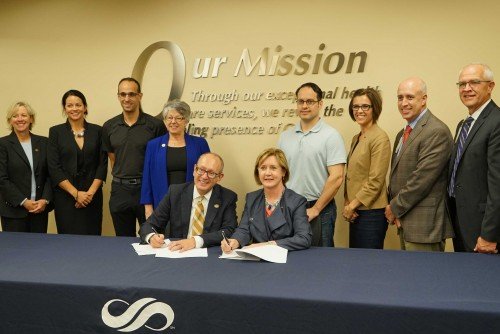 Lindenwood University and SSM Health will expand an exclusive agreement that not only provides medical care to the largest Division II athletics program in the country, but also allows students access to educational programs within the Catholic, non-profit health system.
In an agreement signed Nov. 1 by Lindenwood President Michael D. Shonrock, PhD, and Candace Jennings, regional president of hospital operations for SSM Health – St. Louis, SSM Health will become the exclusive health care service provider for the university's athletic training department.
SSM Health will have a presence for home games in football, gymnastics, women's ice hockey, and other events while also providing assistance with sports medicine protocols, training seminars, medical screenings and sports physicals.
In addition to that agreement, Lindenwood and SSM Health amended an academic affiliation agreement that allows university students in health occupation programs to train at facilities of SSM Health.
"Lindenwood University is a fixture in our region and we are proud to partner with them," said Jennings. "Not only does this allow us to provide exceptional health care services to their students and athletes, but also provide their students the opportunity to gain valuable experience to start them in health care careers."
SSM Health will also offer clinic services for the entire student body at Lindenwood's Student Health Center in the Evans Commons, along with other basic services such as office visits, lab testing and certain exams.
"SSM Health is known for its exceptional health care services and we're excited to formalize a great relationship between two leaders in St. Louis," Dr. Shonrock said. "This agreement allows us to make high-quality health care available to our students and athletes."
Lindenwood has designated SSM Health as its exclusive sports partner in the health care services industry. SSM Health will appear on advertisements at all of the university's large athletic venues – Hunter Stadium, Hyland Arena, Lindenwood Ice Arena, and soccer, baseball, softball, and lacrosse fields.