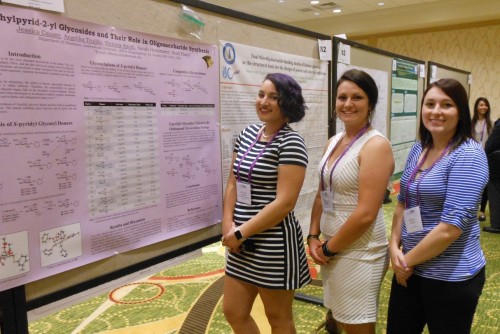 Lindenwood University students Angelika Trujillo, Victoria Smith and Jessica Causey, attended the 26th International Carbohydrate Symposium in New Orleans July 17 – 22, taking home top honors for a poster presentation.
"The three ladies represented Lindenwood University superbly by presenting their research poster in a session that consisted primarily of graduate students, post-doctoral fellows, professors, and professional chemists working in industry," said professor Scott Hasty, who accompanied the students on the trip. "Their hard work and passion did not go unnoticed by the other delegates attending ICS, as evidenced by the fact that our students received the award for the Best Poster Presentation at the symposium!"
This symposium is considered among the top conferences in carbohydrate chemistry and was attended by more than 600 delegates representing 27 countries. With Lindenwood's support, it was an extraordinary opportunity for these ladies to showcase their hard work in undergraduate research on a worldwide platform, he said.
The winners of the poster competition were determined by the votes of all the symposium delegates, and out of the 98 posters that were presented. The Lindenwood participants won the $500 award and certificate.