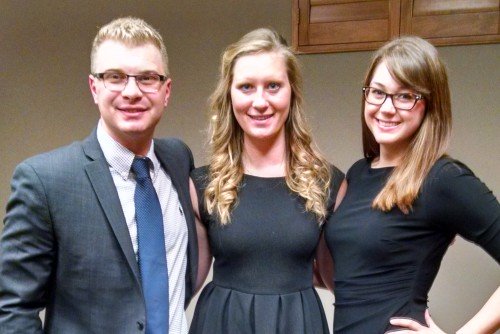 For the fifth time in six years, a team from Lindenwood University has won the Chevy Marketing Challenge, in which students from area colleges compete to produce promotional campaigns for St. Louis Chevy dealers.
Lindenwood's two teams won first and second place, finishing ahead of teams from Saint Louis University and the University of Missouri—St. Louis. The Lindenwood teams came from Steve Holley's two Advertising and Sales Promotion classes, in which seven teams in unit of the class spent the semester putting together marketing plans for the competition, this year for the Chevy Silverado pick-up truck.
"The competition involves students putting together a full campaign, which includes a target market analysis, defining features and benefits, creating a social media campaign, and creating a video," Holley said. "Students also conduct an on-ground promotion in front of Harmon Hall where they have games, giveaways and engage their peers with Chevy vehicles that are involved with the promotion."
Holley and the students in both classes voted on the teams that would go on to represent Lindenwood in the competition, which was judged by the owners of the St. Louis-area Chevy dealers and their advertising agency. The team of Alexander Dupre, Sarah Holland, Sarah Jackson, and Paige Dillaha took the top spot, which earns them a trophy and the potential of a paid internship with Chevy for the team members.
Holley said in the six years of the competition, approximately 15 Lindenwood students have been hired by Chevy's promotional agency or Chevy dealerships in the St. Louis area. Some of the commercial and promotional idea shave also been adopted by Chevy for use in its campaigns.
"Students enjoy the competition because it is real world, they get feedback from the customer, Chevy, and they get to actually prepare and execute a campaign they developed," Holley said. "The competition shows them what happens in the business world as they use their skills."