Lindenwood University-Belleville Education and Counseling Division Chair Steve Suess started the tradition of organizing staff and students to collect school supplies for area elementary school students a few years ago because he thought it was a worthy cause.
This year, students and employees collected and delivered more than $400 worth of notebooks, pencils, rulers, erasers, and other assorted supplies to Lindenwood Belleville's neighbor, Union Elementary School. They did it not only because they thought helping the younger students was appropriate. They also thought it was a fitting way to remember Suess, who passed away unexpectedly over the summer while on vacation with his family.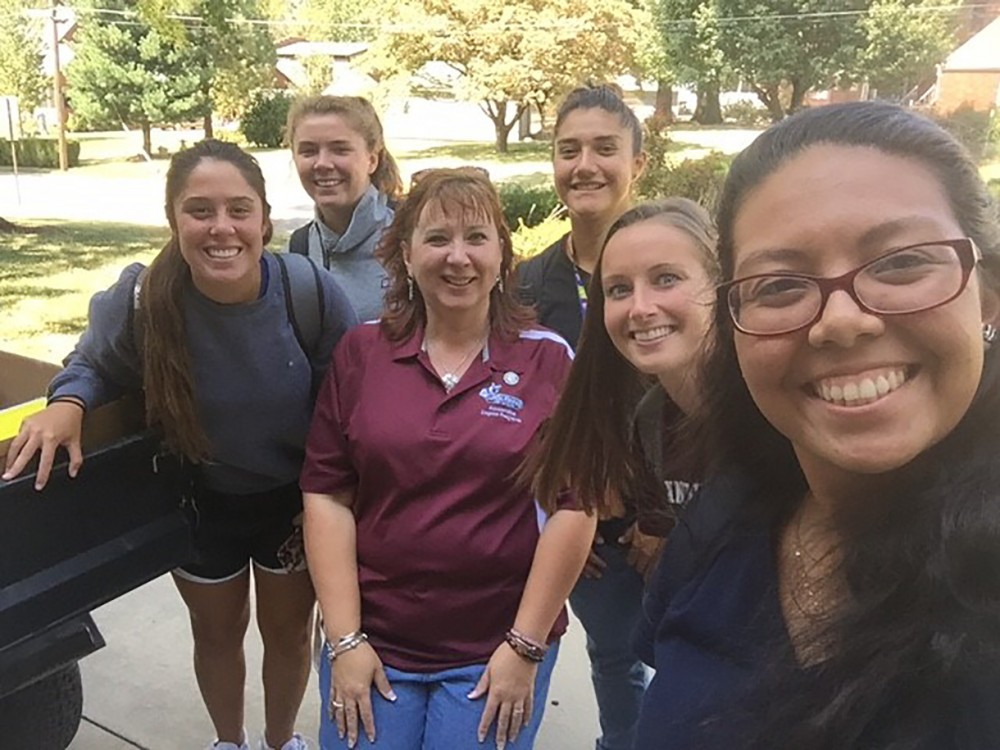 "I recall, back a few years ago when we started this, going to Steve, as I knew he was connected in the education community and was always involved in supply drives for Rotary and other organizations," said Dr. Cindy Manjounes campus dean for Accelerated Degree Programs. "Steve was always so kind and so passionate about education and making sure that everyone had an opportunity to participate. It was important to me to carry on his legacy by making sure this drive continued to be successful. Steve's spirit of compassion and giving of himself for the greater good is one that we all should attempt to emulate. "
Several Lynx soccer players delivered the supplies to Union Elementary, including Maisie Kincaid, Ethel Lopez, Kelsey Keppler, Alondra Balderrama, and Emily Fox. Cheerleading coach Erika Baptist said she was honored to be part of the mission to collect the donated items.
"Our mission with our program is to be competitively active in the conference, community, and campus," said Baptist. "We have a goal to provide our time and hard work to the community in some way for each month we are here and once during the summer months. Our season can get pretty jam-packed and crazy, but so can life. It is my duty to lead these girls in how helping and giving back can not only impact your life but the society we live in."
Baptist said the project entails a personal connection for her as well.
"I was privileged to have been advised by Dr. Seuss for my master's program," Baptist continued. "Having him for some courses as well, I know firsthand how he knew this community and their needs at the school-age level. He was extremely passionate about helping others and doing what he could to make students like myself successful. I am not only grateful to help those students next door but to lead my student athletes in his legacy."