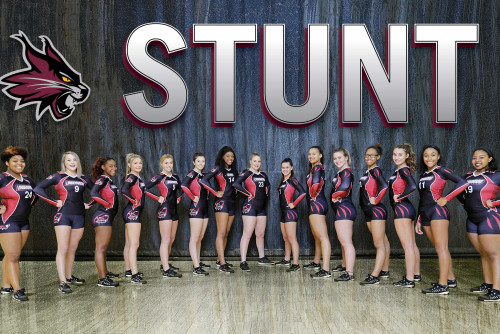 The Lindenwood University-Belleville Athletic Department is excited to announce the inaugural season of STUNT, the sport. STUNT is the fastest growing female sport in America at the high school and collegiate levels, according to the organization USA Cheer.
STUNT takes cheerleading, power tumbling, and acrobatics to the next level, and Lindenwood Belleville is one of the first schools in the St. Louis/Metro East area to offer this new athletic opportunity. USA Cheer, the governing organization for STUNT, expects the emerging sport to gain intensity and growth over the next two to three years, leading to full NCAA athletic status in the near future.
Lindenwood Belleville Head Cheer and STUNT Coach Rachael Beard says that Lindenwood is ahead of the game and plans to have a highly competitive STUNT program that will match the expected growth of the sport locally and regionally.
"STUNT is so unique," Beard said. "It offers a variety of female athletes the opportunity to continue to compete in college athletics doing the sports they love that may have otherwise not been possible."
Beard currently oversees the school's competitive cheer team and is actively recruiting for the STUNT program, as well.
STUNT teams are usually comprised of 30 to 36 female athletes with diverse skill sets. A STUNT game includes four quarters of play in which two teams go head-to-head in competition, making it much more like a traditional sport rather than the competitive cheer experience.
STUNT athletes may play in one or more quarters depending on their skill sets. Quarters of play include jumps and tumbling, stunts, baskets, and pyramids.
"In STUNT, athletes truly get to compete in a way that supports the execution and technicality of skills, rather than the subjective nature of traditional cheer routines," Beard said. "STUNT provides athletes a way to continue to develop themselves as highly competitive and skilled athletes while removing some of the typical aspects of cheerleading that many people do not like or understand."
Cheer, Dance, and STUNT Recruitment Coordinator Stephanie Brant said, "What I like most about STUNT is that STUNT athletes are given numbers and stats can be tracked unlike traditional cheerleading. STUNT is an all-girl sport, which helps support Title IX in collegiate athletics. In STUNT recruiting, we do not have to recruit athletes who can stunt, tumble, jump, and dance. Rather, we can recruit athletes who may have a specific skill set for specific positions and quarters of competition."