Dr. Brooke Taylor, assistant professor of English, has been selected to present her research at the Midwest Victorian Studies Association's 2014 conference on April 11-13 at the University of Michigan in Ann Arbor, Mich.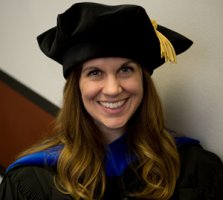 The theme for the conference is "Victorian Violence," and Taylor will present her paper titled "Tickler and 'Tumbling Up': The Terror of Child Abuse and Neglect in Great Expectations."
"This yearly conference draws scholars from all over the Midwest," said Taylor. "My goal is to develop my conference paper into a longer article for publication in an academic journal."
Along with her conference presentation, Taylor has also recently had a personal essay selected for publication in a forthcoming book collection. Her essay titled "Violets in the Mountains" will be featured in the book Three Minus One: Stories of Parents' Love and Loss, which is currently available for pre-order on Amazon.com.