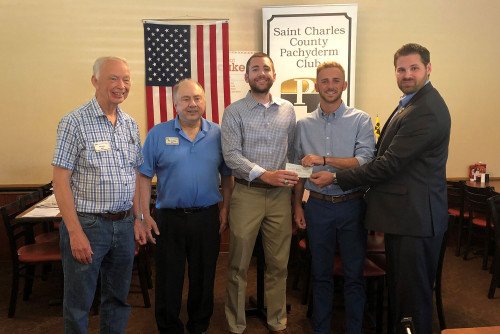 Alex Gauspohl from Timberland High School in the Wentzville School District has been named the 2018 recipient of Lindenwood University's Pachyderm Scholarship, which is presented in cooperation with the St. Charles Country Pachyderm Club. The award was announced at the club's meeting this summer in St. Charles.
Gauspohl graduated in the class of 2018 with a 4.0 GPA and played on the baseball team at Timberland; he is being recruited to play baseball for Lindenwood this fall.
The scholarship, awarded annually, is for $1,000 and is renewable.
---
Photo cutline: (from left) Ron Lares-Pachyderm Club president; Mike Hazelbaker, scholarship chairman and founder; Adam Benkendorf, Lindenwood Admissions; Alexander Gauspohl, Timberland High School 2018 graduate and Lindenwood Pachyderm Scholarship recipient; and Kurt Barr, Missouri state representative.