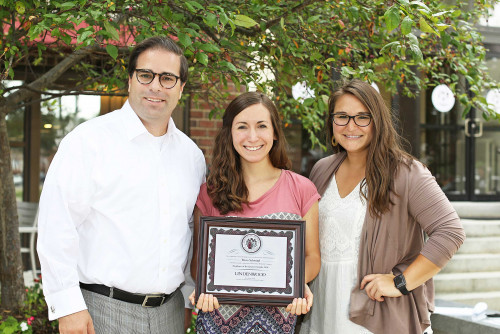 Assistant Registrar Tricia Schwind was named Lindenwood University-Belleville's Employee of the Quarter in August. Schwind joined the Lindenwood staff in 2017 and has made a lasting impression in the short time she has been with the university.
According to one of her nominator, Campus Registrar Jessica Hauser, Schwind's keen attention to detail and adaptability has made her an invaluable asset to Academic Services. Responsible for managing student records within that department, Schwind serves as a source of information to students and academic advisors alike. She was described as "a quick learner, calm under pressure, and sensitive to the internal customer" by an additional nominator, Dr. Sila Tuju. According to Tuju, Schwind also responds to policy changes on academic success while providing a fresh perspective to colleagues.
Initially working to be a counselor, Schwind began her career in higher education as an admissions counselor and student advisor at McKendree University. Since coming to Lindenwood Belleville, Schwind has become well versed on the myriad of academic policies which allows her to work toward her primary goal helping students achieve their educational goals.
"There was difficulty moving to Lindenwood Belleville after being at McKendree for so long, but the close-knit community on campus made for an easy transition," said Schwind, speaking on joining the Lindenwood family. "I like how small it is. It means you can really get to know people."
Schwind holds a bachelor's degree in psychology and a master's degree in higher education administration, both from Mckendree University. She and her husband, Adam, live with their son, Ezekiel, in Lebanon.