Julie Turner, associate professor in the Plaster School of Business and department chair of nonprofit administration, was recognized by the Emerson Excellence in Teaching Awards program on Nov. 22 at the Ritz-Carlton, St. Louis. The Excellence in Teaching Awards annually recognize more than 100 educators in the St. Louis metropolitan area – from kindergarten teachers to college professors – who are examples of excellence in their field.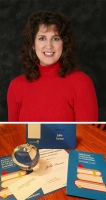 Turner, who has worked at Lindenwood for over eight years, said she was surprised and humbled by the award. "I truly enjoy finding new and innovative ways to deliver content and to energize instructional practices, so to have these efforts noticed is very rewarding," Turner said. "Making learning fun and relevant brings me great satisfaction!"
Award recipients are selected by the chief administrators of their school districts or educational institutions. The employing educational institution must be located in the St. Louis metropolitan area, which is defined to include Franklin County, Jefferson County, St. Charles County, St. Louis City, St. Louis County; and (in Illinois) Jersey County, Madison County, Monroe County, and St. Clair County.