It's not unusual for students to take part in the annual Academy of Criminal Justice Sciences conference, contributing research, working on basic data methodology, and helping to present the findings of their team to other criminal justice researchers.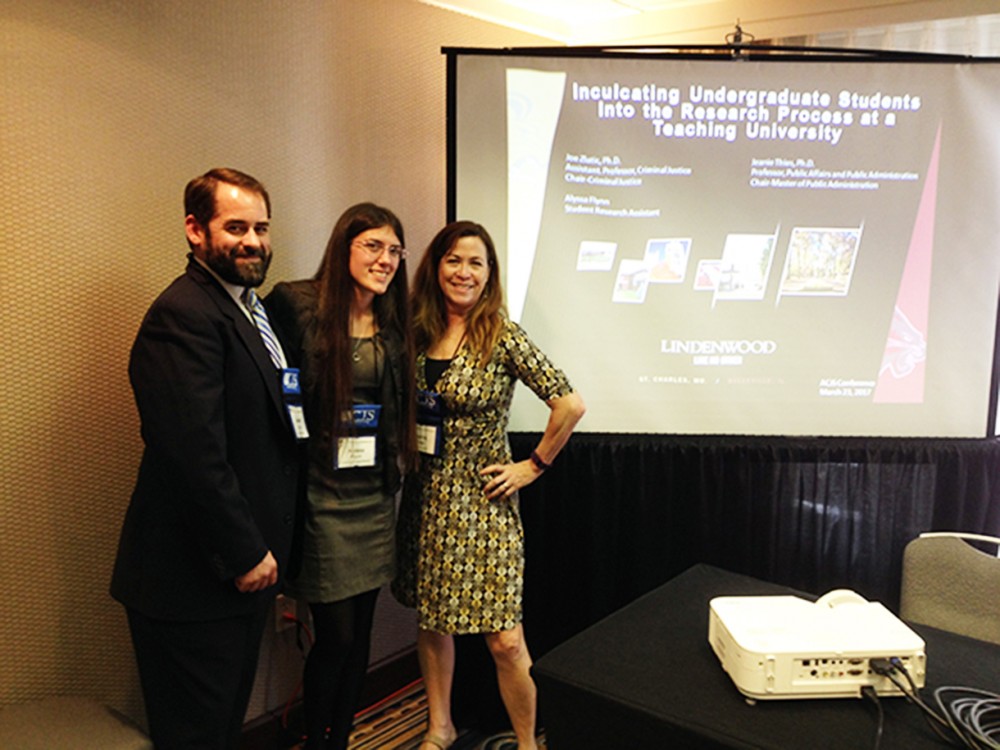 But, typically, graduate students are asked to participate, according Joe Zlatic, assistant professor and chairman of Lindenwood University-Belleville's Criminal Justice Department. This year, Zlatic made an exception for an outstanding undergraduate student. And that's likely to lead to more undergraduate students getting similar opportunities in the future.
Senior Alyssa Flynn teamed up with Zlatic and Jeanie Thies, a political science professor at Lindenwood University's St. Charles campus, to present the fittingly titled work, "Inculcating Undergraduate Students into the Research Process at a Teaching University" at the ACJS conference March 21-25 in Kansas City, Mo.
"She was incredible in helping to get our project off the ground," Zlatic said. "Alyssa is an exceptional student and deserved the opportunity. She did a fantastic job."
Flynn, the Lindenwood Belleville Criminal Justice Division student of the year in 2015-16, said her contributions including interviewing people and organizing her research–as well as that of others–into an easy-to-reference database.
"I really enjoyed doing the work and I was grateful that I was asked to be a part of the presentation," Flynn said. "When I started at Lindenwood Belleville, it was my plan to graduate and go on to law school. But I liked what I was doing so much that I have reconsidered and am planning on making it my career."
Thies said the conference went so well that additional undergraduate students are likely to get similar opportunities in the future.
"The student did a really professional job in her role," Thies said of Flynn. "An audience member came up to her after the program to tell her how impressed they were with her."
In the future, Thies said Lindenwood University hopes to double up and send two students to similar conferences, one graduate student and one undergrad.
Zlatic said it's important to find ways to get students hands-on experience in the criminal justice field and go beyond what they can learn in a classroom. Flynn said she didn't know her work could lead to others getting a similar opportunity when she was doing it, but she's proud to be able to help students who follow in her footsteps.
"I feel really privileged to help create a path," Flynn said. "It's been a great thing for me. I hope it will be a great thing for others."