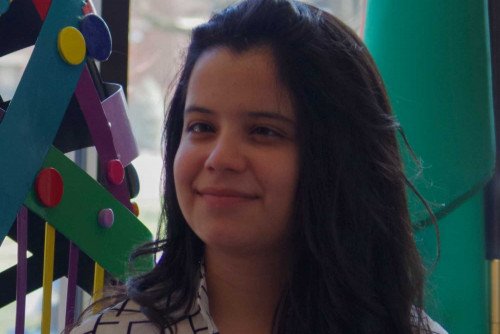 Lindenwood University-Belleville junior Bessie Zaldivar will soon be published in the University of Miami's Mangrove Journal, the university's undergraduate literary journal, for her poem "Primary Colors."
The poem, which was inspired by the sociopolitical environment of her home country, Honduras, shines light on the disparity between workers there and the products they produce for other countries. In fact, it was a Honduran banana that sparked Zaldivar's creativity for her work.
"It's crazy to think that when I go to Target or Walmart and I see the bananas and all these other products that come from Central American countries, they don't look the same as they look in my own country," she said. "They look better here; they're bigger, they have more color. And I've always thought of fruits and vegetables as a beautiful picture that cover up a horrible lie. Because it is a lie. The people who pick bananas back home are not people who go home to a nice home. [They are] people who are extremely poor or work for low wages and probably will die from exposure from some of those pesticides in the banana camps."
As a double major in psychology and English with an emphasis in creative writing, Zaldivar originally wrote "Primary Colors" for her creative writing class. Her English professor, Robert Alexander, suggested Zaldivar create an account on submittable.com, a website used to connect writers with organizations to submit their work to be published. From that, the Mangrove Journal requested an original poem authored by an undergraduate student.
Zaldivar said that she believes the citizens of Honduras do not have a voice or the opportunity to speak out against the tyranny they face. Because of that, much of Zaldivar's writing is Honduran-inspired. She hopes her writing will help establish a voice for her countrymen and bring attention to the issues they face every day.
In addition to her poem appearing in the Mangrove Journal: Issue 12, Zaldivar's other work, "Civil Unrest," has been accepted by Bridge, the Bluffton University literary journal.
Issue 12 of the Mangrove Journal is slated to release in April 2018. "Civil Unrest" will appear in Bridge: Volume 4, set for publication in November.