Stephen R. Wigginton, U.S. Attorney for the Southern District of Illinois, will serve as the commencement speaker for Lindenwood University-Belleville's graduation ceremony on Monday, May 18, at 7 p.m. at the Gateway Center in Collinsville, Ill.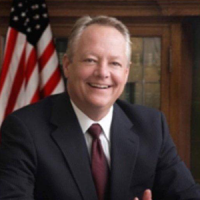 "We are extremely pleased to welcome U.S. Attorney Wigginton as our 2015 commencement speaker," said Jerry Bladdick, president of Lindenwood Belleville. "His impressive accomplishments and unique ties to the Southwestern Illinois region make him a perfect fit to address our graduates. We are thrilled that he will be part of this year's graduation ceremony and are anxious to hear his message to our graduates."
Wigginton was nominated for United States Attorney for the Southern District of Illinois by President Barack Obama on April 15, 2010, and was confirmed by the U.S. Senate on August 5, 2010. He was sworn in as U.S. Attorney on August 27, 2010.
Since becoming U.S. Attorney, Wigginton has been recognized for his leadership in law enforcement. He received the Olympian Award from the Southern Illinois Police Chiefs Association for his leadership in tackling violent crime. He received the Extra Effort Award from the Edwardsville School District for his work in combating heroin-related crimes and his participation in Project Drugsmart. He was named chairman of the Violent and Organized Crime Subcommittee in December 2012, a position he still holds, and was appointed as the U.S. Attorney's representative on the Violent Crime Resource Working Group supporting Vice President Joe Biden's Violent Crime Task Force in the wake of the Newtown, Conn., school shootings. He is a member of the Attorney General's Health Care Fraud Working Group and the Civil Rights Sub-Committee. He also serves as the representative for the U.S. Attorney Community on the nation's Threat Mitigation Working Group.