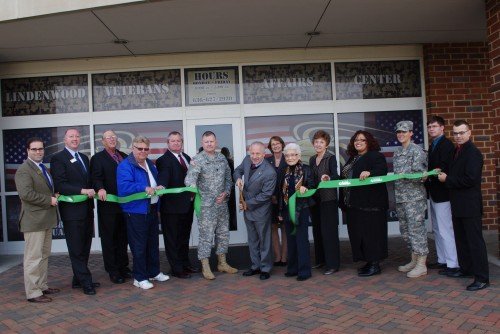 Lindenwood University hosted a ribbon-cutting ceremony on Nov. 15 to mark the launch of its new Veterans Affairs Center. The event took place inside the facility, which is located on the lower level of the Spellmann Center on the university's St. Charles campus.
Dignitaries from Lindenwood University and the United States military were in attendance, and leaders from both organizations delivered remarks about the center's offerings and overall purpose. A blessing was conducted prior to the ribbon-cutting, which marked the facility's official opening.
Staffed by an active-duty member of the Missouri National Guard, the center serves as a resource hub for military scholars at Lindenwood. Veterans and service members may use it to hold meetings, complete coursework, and access information about their benefits, courses, and financial aid agreements. They can also use the setting to network and socialize with fellow soldiers.
"It's more than just a room, but a one-stop shop where veterans and service members can get the answers they need in the manner they deserve," said Jann Weitzel, PhD, vice president for academic affairs and provost. "It's yet another way in which we honor our commitment to military personnel and thank them for choosing Lindenwood University as their partner in education."
The Veterans Affairs Center is open daily, Monday through Friday, from 9 a.m. to 5 p.m. For more information, call 636-627-2920 or email Corey Mack, Military Liaison, at cmack@lindenwood.edu.