Lindenwood University has named Willie Broussard dean of its Center for Distance Learning, a new position. He takes the post on Thursday, May 1.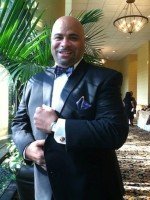 "Lindenwood's online degree programs have been recognized as among the best in the nation," said Dr. James D. Evans, president of Lindenwood University. "With Dean Broussard's commitment to expanding our offerings and his expertise in the area of customer service, the future of the Center for Online Learning holds great promise."
Since 2009, Broussard previously served as associate director of the Division of Distance Learning at Lamar University in Beaumont, Texas. He has worked in higher education since 2005. He is working toward an EdD in curriculum and instruction from the University of Houston, Texas, and has an MBA in human resource management from the University of Phoenix and a bachelor's in hospitality management from Lamar University.
"I am excited about the opportunity to continue the growth and development of Lindenwood's online programs," Broussard said. "Online courses and degree programs allow additional avenues of access to higher education for populations once considered unattainable. I look forward to working with Lindenwood's faculty, staff, and administration to ensure student success while continuing the rich legacy of Lindenwood University."