Lindenwood University in St. Charles, Mo., will hold its December Commencement with ceremonies at 10 a.m. and 3 p.m. Saturday, Dec. 15, at St. Charles Family Arena.
The 10 a.m. ceremony is for undergraduate and graduate students receiving degrees from the School of Accelerated Degree Programs. The 3 p.m. ceremony is for undergraduate, graduate, specialist, and doctoral level students in the schools of Arts, Media, and Communications; Education; Health Sciences; Humanities; and Sciences, and the Robert W. Plaster School of Business & Entrepreneurship.
"We are excited that over 1,000 students will graduate with Lindenwood degrees in December," said Molly Hudgins, associate provost. "Commencement is a special event, offering Lindenwood faculty and staff the opportunity to celebrate the students that they have mentored through their college careers. The entire Lindenwood community is honored to celebrate with the students, their families, and friends."
The university will confer 561 bachelor's degrees, 405 graduate degrees, 35 specialists, and 27 doctoral degrees. Approximately 800 students, which includes September, October, and December conferrals, are expected to take part in the two ceremonies.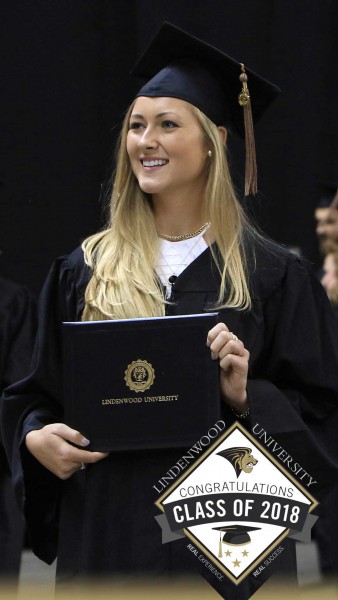 Tickets are not required for guests of graduates to attend the ceremony. Video of the ceremony will be broadcast by Lindenwood's campus television station, LUTV-HD at Charter Communications channel 989, AT&T U-Verse channel 99, and on LUTV's YouTube channel. Links for streaming the ceremonies live or after the fact can be found at www.lindenwood.edu/graduation.
Social Media - #LindenGrad18
Lindenwood will have a special Snapchat filter available at the campus gates all day Friday and at the Family Arena during all ceremonies. Graduates, parents, alumni, students, faculty, and staff are invited to celebrate, congratulate, and share social media posts using #LindenGrad18. Social media posts on Instagram and Twitter may be displayed on the Family Arena video board and along with the live feed of the ceremonies on the Lindenwood website.