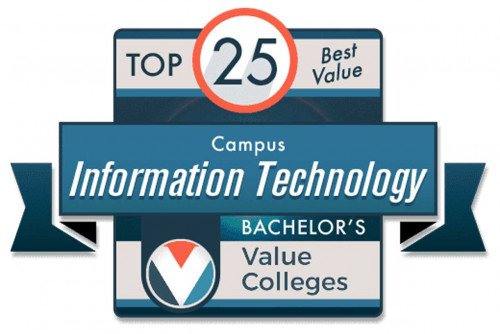 Lindenwood University has been featured as a Best Bachelor's in Information Technology Program for 2019 by ValueColleges.com.
ValueColleges.com is designed to "point prospective IT professionals to the programs more likely to make a real difference in their careers." The programs are ranked by a variety of key statistics, including U.S. News rankings, student reviews, cost, and alumni salaries. The site recognized Lindenwood's accelerated IT program and its focus on providing a strong foundation in technology-related topics.
"It is an honor to receive recognition for our campus-based Bachelor of Science in information technology program," said Dr. Gina Ganahl, dean of the School of Accelerated Degree Programs. "Job opportunities for graduates of our IT program are plentiful, and job outlook data predicts continued employment growth in the future."
Ganahl said the school is launching an online B.S. in information technology with emphasis areas in applications development and networking, starting in January 2020.
"We will continue to offer evening classes, so students may choose between online and evening classes on a course-by-course basis," Ganahl said. "The IT program complements our B.S. in cybersecurity."
Graduates of the information technology program at Lindenwood University leave ready to handle the challenges of working in the technology industry, Ganahl said, including a solid foundation in programming and maintaining computer data.
"In addition, the fast pace of the program helps students accomplish their educational goals in a timely manner," Ganahl said.