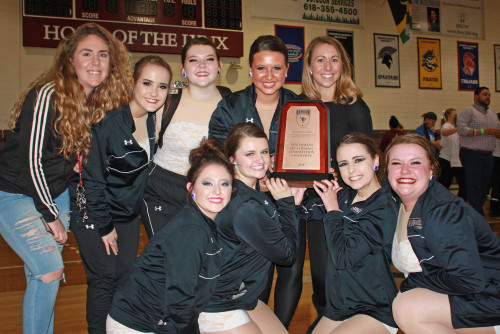 The Lindenwood University-Belleville dance and cheer teams recently hosted the 2018 NAIA Regional Championship in Lynx Arena and competed with five other schools, including Missouri Baptist University, Stephens College, Bethel University, Tabor College, and Wayland Baptist University.
The preliminary round began with dance as four teams competed for the title including Lindenwood. The Lady Lynx scored 74.93, just ahead of the runner-up Missouri Baptist Spartans with 72.2 in the first round.
With a slim lead over the Spartans going into the second round, the Lady Lynx dancers put on their best performance of the year, scoring a 75.03 to earn a final score of 75 in the tournament to claim the championship over the rival Spartans.
The Lady Lynx dancers improved throughout the prior weeks after finishing seventh out of nine teams with a score of 65.27 at the Lindenwood Belleville Classic in January. In the competitions that followed, their scores improved to 68.65 and then to 70.85, prior to the regional tournament.
Five cheer teams, including Lindenwood, competed in the preliminary round on the cheer side of the competition. The Lady Lynx tallied 62.95 in the round, and were in third place going into the final round, nearly 16 points behind the leader. The Lady Lynx scored by more than 12 points for a total of 75.23 in the set and a third-place finish behind winner Missouri Baptist (83.75) and runner-up Tabor College (82.4).
The Lady Lynx dance team, under Head Coach Stephanie Brant, in her seventh season with the program, will now travel to Oklahoma City next Wednesday, March 7 to prepare for the NAIA national tournament beginning Friday, March 9 and ending on the 10th.