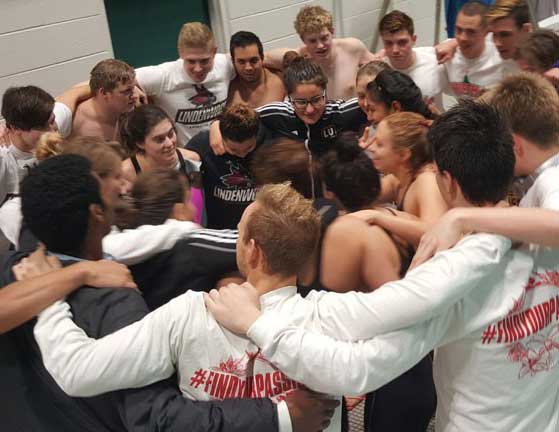 The Lindenwood University–Belleville swimming and diving team recently traveled to Columbus, Ga., for the annual NAIA National Tournament, where the men's team placed fourth out of 18 teams and the women placed ninth out of 21 teams.
After winning the Mid-South Conference championship for the third straight year, the swimming and diving teams had two weeks to prepare for the national tournament, with the practices intensifying. The tournament began on Wednesday, Feb. 28, and ended on Saturday, March 3.
"To me, the women's scores were a bit surprising," Head Coach Ksenia Gromova said. "They were swimming at much faster times than they were last year, relays were faster, and everything in total was faster and better."
The men's team tallied 331 points, finishing behind Olivet-Nazarene with 481, Savannah College of Art and Design with 485, and Keiser University with 635.
"They performed exactly as I thought they would," Gromova said. "Finishing fourth is what I expected out of the men, because the teams that finished before us, I knew that they were going to score more points because they simply have more swimmers. I knew that we would be at a quantitative disadvantage, but we still managed to place fourth."
Throughout the four-day tournament, various school records were broken by both the men and the women.
"At nationals, the men and women broke 12 school records," Gromova said. "Overall, during the season, they broke 14 school records and 12 were broken at nationals as several swimmers broke their own school records. We had two national championship titles; Neils won the 500-freestyle and the mile. We also had 15 finalists out of 18 qualifiers."
Last year, the men's team finished fifth at nationals and the women finished ninth.