The Lindenwood University Speaker Series will present Adam Steltzner, lead NASA engineer for the Mars Curiosity rover landing, at 7 p.m. on March 25, 2014, in the university's Lindenwood Theater. Tickets are required but are free and available at the Lindenwood Box Office. His talk is titled, "How Curiosity Changed My Life."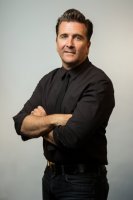 The Lindenwood Theater and the box office are located in the J. Scheidegger Center for the Arts at 2300 West Clay Street in St. Charles. As lead engineer for the August 2012 Curiosity rover landing, Steltzner's job was to make sure the rover landed safely. Steltzner was also among the scientists and engineers featured on the NOVA episode "MARS Dead or Alive," which chronicled the process that ultimately delivered the rovers Spirit and Opportunity to Mars in 2004.
His team designed, built, and flew the systems that slowed the new rover from a speed of 15,000 miles per hour and delivered it safely to the planet's surface.
"There are very few days when I don't have a moment or two to think as hard as I possibly can," said Steltzner. "I like that."
Steltzner, who has a bachelor's degree from the University of California at Davis and a master's degree from the California Institute of Technology, says today's engineers must think critically to extend their skills and influence outside their area of specific expertise.
For more information about the 2013-14 Lindenwood University Speaker Series, visit www.lindenwood.edu/academics/speakerseries.