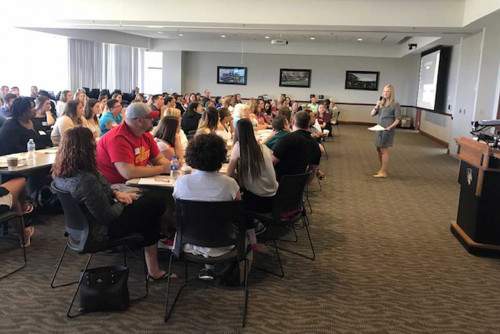 The Lindenwood University School of Education recently hosted the fall Triad Training on Aug. 10 for teacher candidates, local teachers, and Lindenwood supervisors.
The Triad Training consisted of an orientation session for teacher candidates (Lindenwood students), the cooperating classroom teachers from local schools, and the Lindenwood University supervisors.
Shelly Parks, Missouri's 2018-2019 Teacher of the Year, welcomed the group of 135 attendees and provided solid advice for the group of educators attending the training.
The session assisted the trainees in getting to know each other before embarking on the student-teaching experience for the semester. Sessions included information on roles, responsibilities, co-teaching strategies and calibration training for the Missouri Educator Evaluation System tool, which is used to evaluate candidates during their student-teaching experience.
Dr. Amy Barker from Kirkwood School District and Emma Lawson co-presented a session on candidate responsibilities and professional dispositions.
Teacher candidates are required to complete a 16-week internship in a school district in order to earn certification in the state of Missouri.
Lindenwood School of Education faculty members Dr. Amanda Aldridge, Dr. Nancy Schneider, and Dr. Paul Sharp coordinated the training, with the St. Louis Regional Professional Development Center conducting the Missouri Educator Evaluation System session.
Photo cutline: Shelly Parks, Missouri Teacher of the Year, addresses the School of Education's Triad Training session in the Spellmann Center's Anheuser-Busch Leadership Room.