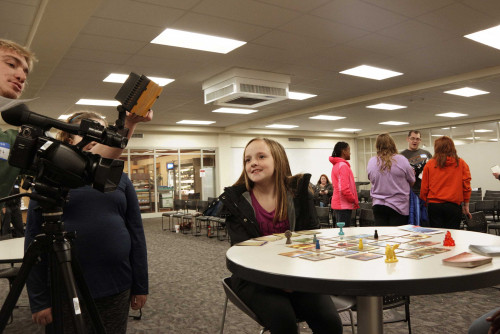 Lindenwood University-Belleville Communications Department students recently took time away from their own studies to share the skills they've learned with area Girl Scouts who set out to earn a new merit badge.
A group of 20 Girl Scouts from Troop 189 and Troop 530, both of Belleville, and Troop 208, of Collinsville, met with Lindenwood University-Belleville Media Club students to work their way through five different hands-on stations, learning a variety of video-making techniques including framing, panning, angles, lighting, and over-the-shoulder shots.
"Our students were very excited to assist the younger kids with their project and didn't hesitate to be part of this opportunity even though several of the students had exams and projects that were due the following day," said Assistant Professor of Communications Justin Edgren. "In fact, I had many more students want to be part of this event, but had prior arrangements with athletics; they're a very proactive and involved group of students."
The experience was beneficial to both the scouts and their Lindenwood Belleville mentors. According to Edgren, this event not only offered his students a way to engage younger learners, but it also gave them a platform to discuss public relations tactics in the world of corporate communications.
"I volunteered to be here this evening, because I thought it would be a good way to help younger students," said Geeah Thompson, a communications major from Nassau, Bahamas. "But also, it gives me a moment to try my hand at teaching others what I've learned while studying in my classes."
The experience is part of the process of earning the Girl Scouts' Digital Movie Maker Merit Badge, according to Ronnie Winterich, sponsor of Girl Scout Troop 208.
"This is such an awesome community resource to have right here in Belleville," Winterich said. "We're excited for the girls to be on campus to experience being here and working with the university students. It's not only for them to complete the badge, but it also gives them a taste of what it's like to go to college."
The combination of the Girl Scouts, junior high school students in grades six through eight, and Lindenwood Belleville was suggested by Christine Mitchell-Endsley, a parent of one of the girl scouts and an adjunct instructor at the university. She said she thought the event was a great way to share what Lindenwood Belleville has to offer with the community.
Interactive Media and Web Design student, Brodyn Keeran of Catlin, Ill., said the girls responded well to the different hands-on stations, grasping some of the very technical aspects of working with professional cameras.
"We're working on close-ups and framing at this station and the girls are coming up with a lot of fun ways to learn these components of film making," said Keeran.
The scouts who attended the Digital Movie Maker Merit Badge event voluntarily chose to earn that merit badge, with several of them citing interest in film making and even animation.
"We've had lots of fun here tonight," said Elizabeth Herbstritt, an eighth grader at Central Junior High School in Belleville. "I've been an actress and a director and camera person, and I think I liked being the director the best because that means you're really in charge of how the movie looks and what the actors do."
Creighton Endsley, in sixth grade at Whiteside Middle School in Belleville, said she was thrilled to get to try equipment she'd never been able to use before.
"We got to make up our own story lines and also got time to really use the cameras," said Creighton. I've used cameras before, but not like these. So, that was pretty cool. I think we have some really good stuff for a blooper video."
Lindenwood students sent the scouts off with homework needed to complete the process of earning their badges and were eagerly awaiting news about the girls' quest.
Dmitrijs Suhusins, a corporate communications student from Riga, Latvia, said he had no doubt the youngsters would be successful.
"They've really taken off," said Suhusins. He added that he enjoyed "sitting back and watching them work to see all the fun ideas" they created.
For more information about the Communications Department at Lindenwood University-Belleville, contact Chair for the Division of Humanities Brendan Leahy at (618) 239-6260 or BLeahy@lindenwood.edu.
Photo Cutline: At left, Girl Scout Mariah Ball, 6th grade student at Whiteside Middle School, works with Lindenwood University-Belleville communications student Geeah Thompson from Nassau, Bahamas to earn her Digital Movie Maker Merit Badge at a workshop recently held at the university.