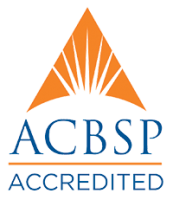 The Accreditation Council for Business Schools and Programs (ACBSP) is a leading specialized accreditation association for business education — supporting, celebrating, and rewarding teaching excellence. ACBSP accredits business, accounting, and business-related programs at the associate, baccalaureate, master, and doctorate degree levels worldwide. Every quality business program worldwide is accredited.
ACBSP promotes continuous improvement and recognizes excellence in the accreditation of business education programs around the world.
ACBSP acknowledges the importance of scholarly research and inquiry and believes that such activities facilitate improved teaching. ACBSP encourages faculty involvement within the contemporary business world to enhance the quality of classroom instruction and to contribute to student learning.
ACBSP offers an accreditation process uniquely focused on teaching excellence and student outcomes. And because the council believes ACBSP success is driven by the success of its members, ACBSP officers and members align those programs and the accreditation process to meet the individual needs of each member.
Lindenwood Student Achievement
National Center for Education Statistics - College Navigator
ACBSP Accredited Program Performance
Student Learning Outcome Assessment Results
Detailed student learning outcome data can be accessed through Lindenwood University's Office of Academic Effectiveness using this link. However, the following tables outline key student learning outcomes for Plaster College of Business and Entrepreneurship (PCB&E) students.
Robert W. Plaster College of Business and Entrepreneurship - Student Retention
The results below are yearly retention rates for Lindenwood students who have declared a business degree during their first term of attendance. The cohorts and outcomes are defined by IPEDS guidelines. As a result, the cohorts are limited to first-time, degree-seeking college students who enrolled in the given fall term. The retention rate provides the percentage of students from a given cohort that returned to the school in the next fall term, one year after their initial fall term.