The mission of the Lindenwood University Student Government Association is threefold. We are committed to amplifying the voice of students, upholding the standards set by the administration, and providing campus leaders with the tools needed to build a thriving campus culture.
The Lindenwood Student Government Association is committed to the highest form of ethical student representation at Lindenwood University. Student government shall seek out, identify, and act upon student concerns in a constructive and effective manner working in cooperation with the appropriate University offices, programs, and departments.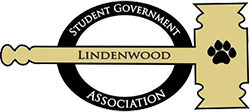 Student government shall aid in facilitating the academic, social, spiritual, and physical well-being of the student body as set forth in the Mission Statement of Lindenwood University.
LSGA General Body Meetings are held every Wednesday at 4 p.m. in the Harmon Hall Dunseth Auditorium. These meetings are open to the entire Lindenwood community.
---
LSGA Executive Board
President
Regan Cole
lsgapresident@lindenwood.edu
---
Vice President
Samantha Heppermann
lsgavicepresident@lindenwood.edu
---
Treasurer
Greg Judge
lsgatreasurer@lindenwood.edu
---
Secretary
Marcela Amaya
lsgasecretary@lindenwood.edu
---
Speaker of the Senate
Madeline Pullen
lsgasenatespeaker@lindenwood.edu
---
LSGA Senators
Posy Durr
---
Nam Nguyen
---
Seph Howell
---
Madeline Pullen
---
Saana Ahokas
---
Nicholas Stone
---
Kelsee Davis
---