Stay Safe and Protect Your Friends on Campus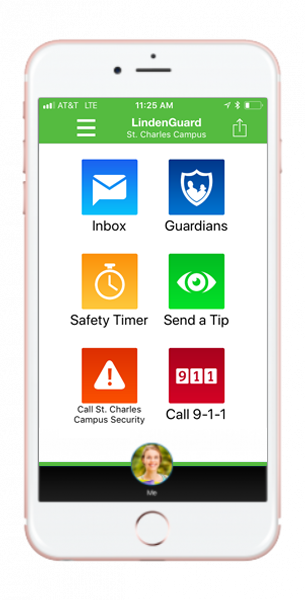 In an ongoing effort to maintain a safe and secure campus, Lindenwood University has added a new mobile safety app for the entire campus community. In addition to the Rave Alert system, we have acquired the Rave Guardian (LindenGuard) mobile application. LindenGuard is a mobile phone app that enhances the safety of the campus community through real-time interactive features that creates a virtual safety network.
LindenGuard is a free mobile safety app available to anyone with a Lindenwood University email address.
How does the LindenGuard app work?
Register and set up an account: Users can add their name, campus address, medical notes and other pertinent information for campus safety in case of emergency.
Easy Emergency Communication: In an emergency, a one-button call to campus safety officials will display the user's guardian profile and current location.
Add and Message Guardians: By adding roommates, friends, and family to their network, users can feel safer when walking alone, on or off campus. Message guardians directly through the app.
Set a Safety Timer: Students or employees can set a timer with their current location, indicating where they are going and when they should arrive. In the event they do not make it there and do not de-activate the timer, guardians or campus safety will be immediately alerted.
Send Tips: See something, say something. The app allows users to easily report suspicious activity to Campus Public Safety, including photos.
Receive Rave emergency alerts by push notification.
Frequently Asked Questions