Join us at Evans for an updated look and new menu items!
Various food options are available at Evans Commons Dining including:
WonderWorks - Action Station with nightly International menu
Delizioso - Pasta
Good Livin' - Salads
Smokehouse - BBQ and more
Far East Asian Cuisine
Hours of Operation
Monday - Friday
Breakfast: 7 - 10 a.m.
Lunch: 11 a.m. - 2 p.m.
Dinner: 4:30- 8:30 p.m. (4:30 - 7:30 p.m. on Friday)
Sunday
Brunch: 10 a.m. - 2 p.m.
Dinner 4:30 p.m. - 8:30 p.m.
Menus
We always make every effort to follow the menus as posted. However, business demands may necessitate replacing certain items without prior notice. We apologize for any inconvenience this may cause.
Important
You will not be allowed access to the Dining Hall without your valid ID card.
ID cards are not transferable. Unused meals are not refundable.
Guests may purchase using declining balance, credit and debit.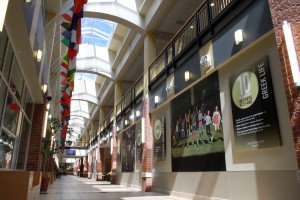 Virtual Tour - Dining
Students can find campus dining options at Evans Commons and Spellmann Center. Take a look for yourself!

Evans Commons Spellmann Center
Nancy Tinker
Director of Dining Services: Pedestal Foods