The Spellmann Center offers traditional student dining, QDOBA and Chick-fil-A.
Spellmann Dining Hall

Spellmann Dining Hall will offer a value exchange that may be used as your meal plan for that meal period. If you choose other items you will be charged and may pay with declining balance, credit or debit. Your One Card System will be activated on the first day of class and you will be able to deposit money and track Dining Dollars through the Student Portal. Missed meals will not be carried over.
Various food options are available at Spellmann Dining Hall including:
- Chick-fil-A
- QDOBA
- Hunt Brothers Pizza
- Fast Break Grab & Go
- The Grill Spot: Hamburgers
- Sub Hub: Sandwiches
Hours of Operation
Monday-Friday: 7:00 a.m. - 7:30 p.m.
Saturday: 11:00 a.m. - 6:30 p.m.
Important
You will not be allowed access into the Dining Hall without your valid ID card.
ID cards are not transferable.
Unused meals are not refundable.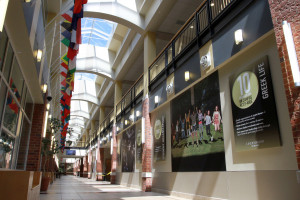 Virtual Tour - Dining
Students can find campus dining options at Evans Commons and Spellmann Center. Take a look for yourself!

Evans Commons Spellmann Center
Nancy Tinker
Director of Dining Services: Pedestal Foods