Lindenwood Dining is excited to offer a variety of meal plans to meet the needs of each student with more options and flexibility. No need to worry about cooking or dishes with a meal plan.
For More Information on Lindenwood Dining visit our Lions Dining Homepage.
Resident Meal Plans
LION'S PRIDE
(Freshman Requirement)
19 meals per week + 100 Dining Dollars
Plan provides 19 meals per week at any dining location on campus, along with $100 Dining Dollars per semester for extra sides or an afternoon snack.
LION'S ROAR
15 meals per week + $250 Dining Dollars
Offering more flexibility for the student with a different roar. 15 meals per week available with $250 Dining Dollars per semester. For the student who may not have the opportunity to take advantage of 19 meals per week given their schedule.
LION'S ROAM
10 meals per week + $350 Dining Dollars
Crazy schedule? As the lion roams, so may your schedule. Offering 10 meals per week with $350 Dining Dollars as the most flexible plan. Unused Dining Dollars from the fall will transfer to the spring!
Dining Dollars
Dining Dollars are accepted at all dining locations throughout the campus.

You can use Dining Dollars for a variety of things:

Adding dessert to a meal combo at Chick-fil-A in Spellmann Center Dining Hall.
Grabbing a coffee at Starbucks before your 8 a.m. class.
Paying for a guest to join you at Evans Dining Hall while you use a meal from your meal plan.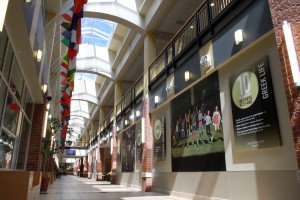 Virtual Tour - Dining
Students can find campus dining options at Evans Commons and Spellmann Center. Take a look for yourself!