Student teaching applications are due October 15 if you are planning on student teaching in the spring of 2021.
The Advisement, Retention, and Certification Center (ARCC) is a centralized center for School of Education majors who are pursuing teacher certification and advanced levels of certification. The center operates Monday through Friday from 8 a.m. - 5 p.m. and available by appointment outside of these hours.
Q&A with SOE ARCC
---
Dining with Lions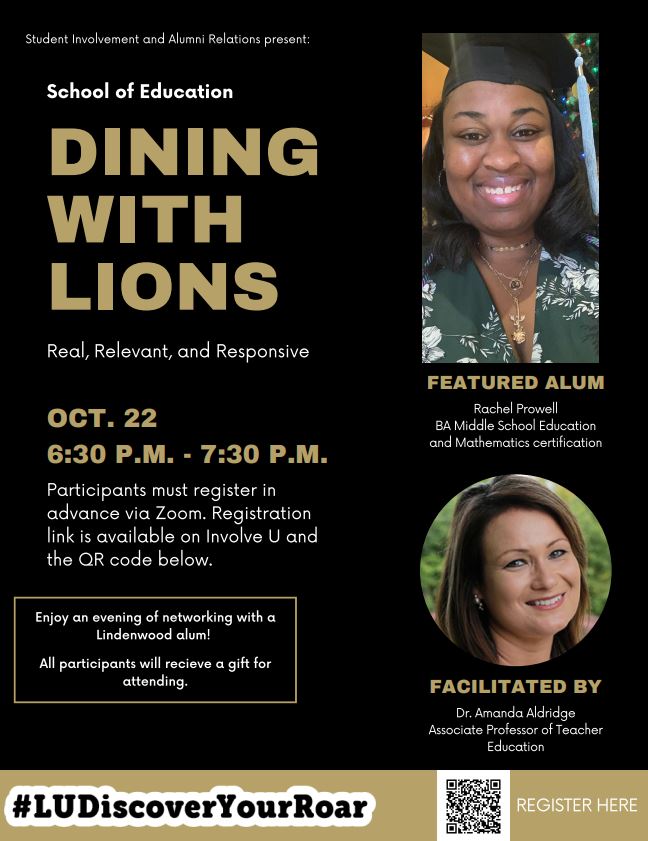 Enjoy an evening of networking with a Lindenwood alum on October 22 from 6:30-7:30 p.m. Participants must register in advance via Zoom. Registration is available on Involve U. All participants will receive a free gift for attending.
Featured Alum: Rachel Prowell, BA Middle School Education and Mathematics certification
Facilitated by: Dr. Amanda Aldridge, associate professor of teacher education
Need Assistance?
The Advising, Retention, & Certification Center (ARCC) is here to help you.
Dr. Tammy T. Moore
Assistant Director, SOE Assessment & Certification Officer
Ed.D. with an emphasis in Higher Education
Master of Business Administration
Bachelor of Arts Business Administration with an Emphasis in Management

Tammy has a history of managing teams and creating processes for efficient flow of information within organizations.  She is excited for the new opportunity and will work to improve processes for faculty with an overall student focus.
Dr. Brittany Neunuebel
Academic Advising Coordinator
Ed.D. with an emphasis in Higher Education and Student Services
M.Ed. in Adult and Higher Education
BA in Interpersonal Communication with an emphasis in Intimate Relationships

Brittany spent five years as a professional academic advisor for the schools of education at a local HBCU and research university. Most recently she was an evening and graduate admissions representative for Lindenwood University. She has previously worked in student life, study abroad, and online education. Her practice in advising leans more toward intrusive advising theories, in addition to appreciative advising.  Please let her know how she can be of assistance to you!
Christina Sachs, MA
Academic Advisor

MA Exercise Physiology
BS Exercise Science

Chrissy is eager to assist all students with advising needs.  She can help with course registrations, transfer credits and certification requirements.  Chrissy is also the Lindenwood contact for all Illinois licensure questions. Contact Chrissy for assistance with transferring of out of state certifications, creating an ELIS account and transcript evaluations.
Robin Travis, MS
Robin Travis was born and raised in Saint Louis, Missouri. She graduated from Hazelwood Central Senior High. She is a proud mother of two: her daughter, Kristen and her son, Caleb. To make them proud, she earned her Baccalaureate Degree in Business Administration in 2012 and her Masters Degree in Human Resource Management in 2019.

As the Candidate Status Coordinator on the ARCC team, she is here to assist students and faculty in many ways! Some of the help Robin can provide includes answering questions about teacher education and student teacher applications in Foliotek, advising students with their education plan, and assisting students with the certification process.
Administrative Assistants
Ashlee - Student Worker
Ashlee ('21) is a Junior majoring in Early Childhood Special Education. She is also a member of the Cheerleading team and Delta Zeta.
---
Essence - Student Worker

Essence ('24) is a Sophomore majoring in Elementary Education.  She is a member of the Cheer team.
---
Jordan - Student Worker
Jordan ('24) is a sophomore majoring in Elementary Education.  She was a member of the Belleville Women's Soccer team.  
---