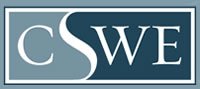 Lindenwood University's Social Work program has been accredited by the Council on Social Work Education. This accreditation is valid through February 2021.
Lindenwood University's Clinical Mental Health Counseling has applied for CACREP accreditation.
The Lindenwood University Educator Preparation Program (EPP) is accredited by the Missouri Department of Elementary and Secondary Education (DESE). The initial teacher education program is accredited by the Teacher Education Accreditation Council (TEAC) through the Council for the Accreditation of Educator Preparation (CAEP). Lindenwood University is accredited by the Higher Learning commission.
As part of the accreditation process, Lindenwood University's Educator Preparation Program (EPP) will present numerous data reports to be considered as evidence of meeting current standards for CAEP, DESE, and other appropriate agencies. In Spring 2022, an accreditation team of CAEP and DESE representatives will be on campus to review these documents and determine if Lindenwood University's EPP will be awarded CAEP accreditation. View the entire preparation cycle. In preparation for this visit, the following are current initiatives faculty and staff are busily working on and compiling data.