Lindenwood University's Bachelor of Science in Information Technology program explores a wide range of fundamental concepts and techniques to help you excel in the field of Information Technology. Our program helps you develop skills in accessing, building, and managing computer networks.
Bachelor of Science (BS) offered in On-campus, Online, and Hybrid formats.
Our IT degree program allows you to customize your curriculum by choosing an area of emphasis and elective courses. By choosing the Networking degree emphasis, you'll be introduced to a variety of computer networks and operating systems while exploring the fundamentals of cloud computing, data center virtualization, network management, and more.
Degree Advantages for a BS in Information Technology with an emphasis in Networking
Taught by Faculty with Professional Knowledge
Every faculty member in the undergraduate information technology program has experience both as an instructor and as an IT professional. You will benefit from their knowledge of information technology as it relates to the business world. In addition to learning from your instructor, you will also benefit greatly from the professional experiences and opportunities shared among classmates.
Earning an Information Technology Degree
To ensure academic success, you will work with an advisor to determine an appropriate sequence of courses. Other professional academic resources, including career services and tutoring, are available. Our admissions counselors can help you navigate the financial aid options that are available to you as a Lindenwood University student.
You must meet the general education requirements of the university. The Bachelor of Science degree in information technology requires 60 semester hours of credit in the major beyond the general education requirements. While in this program, you will experience and learn about a wide variety of subjects within the realm of computer networking. Courses and subjects are industry-driven, relevant topics that are important to your success. Key topics include the Cisco Academy curriculum, fundamentals of data center virtualization, fundamentals of cloud computing, network management, and more.
You will also be required to take an Information Technology Capstone course that will tie together the components and concepts you will learn throughout your experience in the degree program.
What Can I Do with an Information Technology Degree from Lindenwood University?
An undergraduate degree in information technology with an emphasis in Networking prepares you for the roles of Computer Network Engineer, Computer Network Architect, or Network Manager.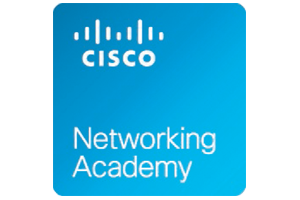 Lindenwood is recognized as a Cisco Networking Academy
Cisco Networking Academy, a Cisco Corporate Social Responsibility program, puts everything you need to deliver a top-quality IT skills and career building program into a single online learning platform.

Learn the benefits of being Cisco Certified
James Daniels Jr.
Instructor, Information Systems