The science of exercise and nutrition is one of today's most rapidly growing fields. Researchers and trainers continue to learn how we can use physical activity and the food we eat to improve our health and quality of life. The Master of Science degree in Health Sciences at Lindenwood University prepares you for a future in this dynamic career field.
About Health Sciences at Lindenwood University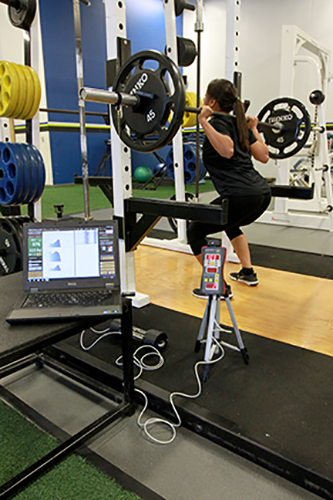 Students in this degree program have the opportunity to learn by doing, whether it's assisting student athletes with strength and conditioning, presenting research at an academic conference, or working with seniors and those with disabilities out in the community. You'll also receive personalized guidance from professors who care about your success and whose real world experience brings a new level of expertise to their classes.
Two areas of emphasis in Sports Science and Performance and Fitness and Wellness allow you to shape your degree to fit your career interests. With an MS in human performance, you'll discover how you can make a difference in the lives of athletes and patients from all walks of life.
Lindenwood University Health Sciences Faculty
The Health Sciences faculty at Lindenwood University are dedicated to helping you succeed in your chosen career path. Not only are they published researchers and experts in human performance theory, but they also have direct experience working in the field as certified athletic trainers, strength and conditioning specialists, and personal trainers.
Our professors have worked one-on-one with individuals in physical therapy clinics, as well as with players on college and professional sports teams. You'll benefit from the strong mentoring relationship our students have with faculty members who know what it's like to work in the industry.
Earning a Master of Science Degree in Health Sciences at Lindenwood University
As a graduate student in human performance, you'll take classes that integrate theory, research, and practical, hands-on applications to give you a thorough blend of knowledge and experience that will help you in your career. The curriculum is designed to prepare you for a number of certifications in exercise physiology and strength and conditioning from such groups as the American College of Sports Medicine, the National Strength and Conditioning Association, and the Aerobic Fitness Association of America.
Admission Requirements
No application deadline and applicants are accepted on a rolling basis after their application file is complete.
No GRE score is required
Minimum GPA of 3.0
Previous four-year degree, preferably in area related to exercise science, kinesiology, athletic training, health promotion, etc.
Absolute prerequisites: Basic statistics, anatomy & physiology I and II (both with labs), exercise physiology (with lab) and exercise testing. All courses must be completed with a "C" or better prior to full admission into the program. You can be accepted on a conditional acceptance basis with approval from the graduate program director.
Additional preferred coursework: Past student performance has indicated that students with introductory coursework in nutrition, exercise prescription, kinesiology and foundational science courses in areas related to biology, chemistry and physics are better suited to handle the rigors of the program.
Two different areas of emphasis allow you to select classes that add a further level of specialization to your degree depending on your career interests.
Emphasis in Sports Science and Performance

The Sport Science and Performance Specialization emphasis provides you with a strong scientific basis, allowing you to seek advanced degrees in the exercise physiology, corporate wellness, clinical exercise physiology, strength and conditioning, and allied health professions as well as teaching you practical skills for employment in the health and fitness industry.
Emphasis in Fitness and Wellness

The Fitness and Wellness specialization emphasis will provide you with a strong scientific basis, allowing you to seek advanced degrees in wellness, therapeutic recreation and various allied health professions as well as providing practical skills for employment in the health and fitness industry.
Teaching and Research Laboratories
In the Fall of 2017, approximately 2,000 square feet was renovated to relocate all teaching and research space within the School of Health Sciences to the Fieldhouse building on the St. Charles campus. The renovation and relocation was completed during the Summer of 2017 and effectively provides the first dedicated teaching and research space for the School of Health Sciences. In addition to space dedicated for offices, approximately 350 square feet has been dedicated to the development an exercise biochemistry laboratory space and approximately 1,400 square feet for the Exercise and Performance Nutrition Laboratory. This new location allows for all Exercise Science and Health Sciences students to more closely interact with program faculty, participate in teaching and research projects and collect data for faculty and student research projects.
What to do with a Graduate Degree in Health Sciences
When you earn your MS in Health Sciences, you'll be fully prepared for an exciting career as an athletic trainer, strength and conditioning coach, sports nutritionist, personal fitness trainer, or many other positions within the allied health professions and fitness industry.
The Bureau of Labor Statistics reports that jobs for dieticians and nutritionists are expected to rise at double the national average for job growth through 2024. The median annual salary for this career is $57,910. Similarly, job opportunities for athletic trainers are also projected to increase at an even faster rate with median pay of $44,670.
Contact the School of Health Sciences
For more information about the graduate program in health sciences at Lindenwood University, contact Dr. Chad Kerksick, Director of the Health Sciences program, at (636)-627-4629 or ckerksick@lindenwood.edu.