The Task Force on Sustainability in the Curriculum works with colleagues across campus and beyond the institution to explore, research, and discuss ways that Lindenwood University can incorporate sustainability into its curriculum and co-curriculum. The Task Force meets regularly throughout the 2021-2022 academic year with a goal of delivering an institutional white paper with draft recommendations for Academic Affairs to consider by Summer 2022.
Key university stakeholders include employees, students, employers, and the surrounding community. Merely mentioning the term sustainability has sparked interest from nearly all of these groups. Community organizations expressed interest in collaborating with the university. A new student group formed with a goal of promoting sustainability efforts, and faculty and staff throughout the organization have an increased focus on sustainability.
Since the mission of the task force identified curriculum and co-curriculum as the focus, the recommendations that follow primarily affect the academic sector of the university. However, since the experts recommend a holistic approach, some suggestions may affect other segments of the organization. It was impossible to avoid any overlap.
Student engagement in sustainability may happen in many ways, through curricular and co-curricular activities, student life, and student organizations. Whether in the classroom, participating in a community service event, or attending a sustainability discussion, engagement in sustainability connects to the university's mission of Real Experience, Real Success.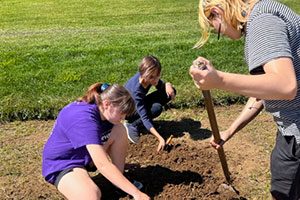 Reservation Form
Thank you for your interest in reserving the Community Garden. Please fill out the form and we'll get back to you.