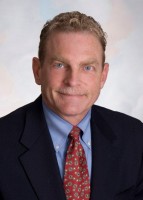 November 6, 2017
Representatives from the Plaster School of Business & Entrepreneurship and the Hammond Institute for Free Enterprise at Lindenwood University in St. Charles, recently announced Craig W. Felzien has assumed leadership of the Duree Center for Entrepreneurship.
Felzien retired in April 2015 after more than 35 years on the staff of the president of AT&T Missouri, where his primary responsibilities were in the areas of community engagement, media and public relations, and legislative affairs. He founded Majestic Consulting in August 2015, helping numerous clients with leadership development.
Felzien holds a Bachelor of Arts degree in English/linguistics from Ottawa University, a Bachelor of Science degree in communications-journalism from Southeast Missouri State University, and a master's degree in corporate communications-media management from Lindenwood University. He was an adjunct instructor at Lindenwood in the Communications Department for more than 10 years.
"We look forward to Craig taking the entrepreneurship mindset at Lindenwood to the next level, further integrating the Plaster School of Business and the Hammond Institute into the fabric of Missouri's business community," said Roger Ellis, J.D., dean of the Plaster School of Business & Entrepreneurship.
Ellis said the Duree Center was created some five years ago.
"We are very fortunate to have Craig join the Hammond Institute team," said Dr. Howard Wall, director of the Hammond Institute for Free Enterprise. "I am certain he will take our entrepreneurship efforts in a new and exciting direction."

"I believe the 'Spirit of Entrepreneurship' is in the very fabric of our lives as Americans," Felzien said. "Our economics. Our sense of liberty and ethics. Our general optimism and hopefulness. Even our form of governance is rooted in a pioneering and entrepreneurial spirit. Entrepreneurship is an essential element of American free enterprise. This is an amazing opportunity. I look forward to further developing and growing this 'brand' for the Plaster School of Business & Entrepreneurship and the Hammond Institute."